How can we further assist you today?
Senior Services provides older adults with vital resource and referral information, Dial-A-Ride transportation access, Benefit Access and RTA applications. Additionally, Senior Service staff are working toward building a calendar of events for our new Township Center. These include but are not limited to our Senior Survival Skills topic series, Computer and Art Classes through our partnership with People's Resource Center, Smart Driver classes and CarFit through AARP, a Car Care Clinic at Westmont Fire Department in coordination with the Township Senior Advisory Committee, needlecraft, seminars, games and more. The Banner News, flyers, pamphlets and our email blasts alert Township senior residents to many of these activities. Please register your email with us!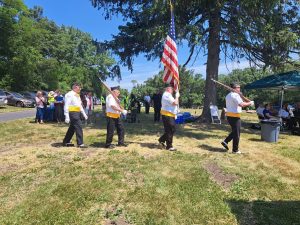 In honor of Flag Day, June 14, Downers Grove Township, American Legion Post #391 of Lombard, and American Legion Orchestra hosted a Flag Day Celebration at Oak Crest & Oak Hill Cemeteries. A respectful ceremony was offered with words by DuPage Co. Sheriff Jim Mendrick and our guest speaker Lois
Read More »
Dial-A-Ride (DAR) is a curb-to-curb, shared-ride service for Township residents who are 65 and older. Riders with disabilities, under age 65, may also qualify if they have an RTA/ADA card, the applications for which are available at the Township office. 
Friends for Downers Grove Township Seniors (FFDGTS)

A not-for-profit organization that supports programs and services offered by the Township that foster the independence and wellbeing of older adults. Based on need, the organization seeks to enhance their quality of life by acting as a resource for funding programs, services, education, and information.
As a registered 501(c)3 charitable organization, monetary donations to Friends for Downers Grove Township Senior Citizens are tax deductible.
Tax ID# 45-3952379

Make checks payable to: Friends for Downers Grove Township Senior Citizens

Senior Advisory Committee (SAC)
A consortium of seniors, local law enforcement, fire protection, park districts, governmental and community agencies with a shared goal of improving the quality of life for older adults.
The Committee investigates the level and nature of the ability of senior citizens, specifically persons 65 years and older, to maintain their self-sufficiency and personal well-being within programs that are currently available. If unmet needs are demonstrated, the Committee reports these needs to the Township Board.
There are nine voting members on the Senior Advisory Committee who must live or serve within the Township.
The Committee works in cooperation with the Illinois Department on Aging, Department of Transportation and other Township agencies and community groups, as mentioned above. State Statute mandates the creation of a senior committee.

The Committee does not create programs out of mere convenience nor does it duplicate services already being provided to senior citizens, but is specifically charged to examine the current status with a viewpoint to supplementing and assisting existing programs or instituting new programs if there is a real and crucial need for services not currently being provided.
Advisory Committee Responsibilities
The Senior Advisory Committee usually meets on the first Monday of every month from 1:30-2:30pm, see meeting agenda for full details. The public is welcome to attend and comment.
Health // Home // Finance
Specialized Healthcare Services
Devices available at the Spectrios Institute for Low Vision (Deicke House Wheaton). Devices include talking clocks/watches, calculators, thermometers, low vision computer keyboards w/large keys or keyboard overlays, playing & bingo cards, large print address books, easy-to-read kitchen timers & magnifying mirrors. Call (630) 690-7115.
The Ill. Telecommunications Access Corporation (ITAC) offers free Amplified Telephones/Teletypewriters for loan to residents with certified hearing loss. ITAC provides trained operators to relay conversations between people w/a telecommunications device & people using voice telephones. ITAC at (800) 841-6167 V/TTY www.itactty.org.
The Dentistry Foundation provides portable dental equip/ services to care for the homebound/handicapped includes fillings, cleanings, dentures, crowns & bridges. Dept. of Aging (312) 440-8976, Community Care Prog. (800) 942-9412 
Out-of-Home Care & Assistance
Provides activities and socialization for elderly persons in a supervised and supportive environment, while family care givers get a respite. 
Call: Community Adult Day Center (630)968-1060, 4501 Main St. Downers Grove, IL.
Provides short-term overnight care for older adults, who cannot be left alone, in a comfortable family-style Elmhurst home. Services include home-cooked meals, household care, activities & socialization. Call Metropolitan Family Services DuPage (630) 653-2397. Short-term overnight stays are also provided at various nursing homes.
Financial Guidelines & Legal Assistance
Offers free legal services for low-income services for low-income persons and those age 60 and over who have serious civil legal problems and need legal help to solve them. Contact West Chicago Office: (630) 690-2130; (800) 690-2130.
Senior Services Contact Form
In order to better serve you, please fill out the Contact Form below, our staff will respond as soon as possible.