How can we further assist you today?
Operations
Capital Improvements // Pavement Maintenance //Traffic
Forestry & Grounds
Brush // Restoration // Weeds
Storm Water
Curb & Gutter // Open Ditch
The Downers Grove Township Highway Department maintains approximately 70 miles of roadway in the unincorporated areas of Downers Grove Township. The Highway Department has typically had the lowest cost per mile for maintenance of the nine townships in DuPage County.
Highway Department Responsibilities Include*:
*within the road and right-of-way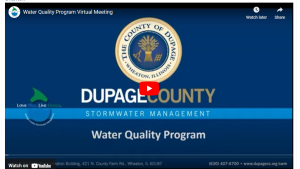 Our NPDES Permit No. ILR40 from the Illinois Environmental Protection Agency requires we hold at least one meeting annually for the public to provide input on the MS4 water quality program. Stormwater Management staff has created a virtual public meeting space to take the place of an in-person or virtual
Read More »
Ordinances // Permits // Covenants
The Township and DuPage County require a permit for removal and replacement of existing driveways.
A signed covenant agreement from homeowners is required for brick drives, invisible fences and sprinklers with the public right of way (ROW). 
We provide residents with wood chips/mulch and Christmas tree pickup for FREE!
*Christmas tree pickup the first two weeks of the year.
IMPORTANT
Please remember while these are target dates, delays due to equipment failure, weather conditions, etc. are always possible. Remember this is an optional service.
A signed covenant agreement from homeowners is required for brick drives, invisible fences and sprinklers with the public right of way (ROW). The township and DuPage County require a permit for removal and replacement of existing driveways. The township has a "No Parking During 1 inch Snowfall" ordinance.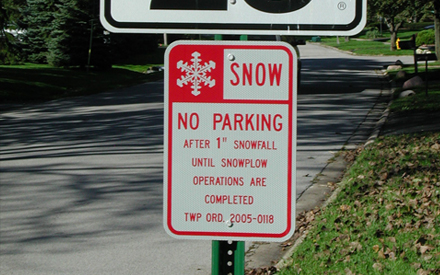 The Downers Grove Township Highway Department begins salting when the snow starts to accumulate and traffic safety is affected. We spread rock salt treated with liquid calcium chloride, which will melt snow and ice when ambient temperatures are as low as 0 degrees.
Our crew does not intentionally "plow in" your drive nor aim for your mailbox. Our snow plows are of the same side delivering design as all other municipalities. This is the fastest and most efficient means to remove snow from streets. As a result, snow is discharged to the curb and inevitably into driveways. If possible, delay the time you clear your driveway until the plows have cleared your street.
Occasionally, heavy slush discharged from a plow will knock down a mailbox. Most mailboxes, if properly placed and installed, will withstand heavy slush. The Township will not be responsible for damage to improperly placed mailboxes. If your mailbox meets specifications and is damaged as a result of our work, contact the Township and we will replace it.
Please be aware that Downers Grove Township has entered into an agreement with the Clerk of the Circuit Court and the other townships in DuPage County. Under this agreement, the Sheriff's office will aggressively enforce parking restrictions on our roads, and citations will be processed through the Circuit Court.
Township Ordinance No. 2005-0118
Provides for fines not to exceed $250 for any vehicle not in compliance with posted parking restrictions. In various areas, parking may be restricted completely, or only during certain hours. During the winter, there will be no parking allowed on any Township road when it snows one (1) inch or more. We would appreciate it if you would remind residents in your subdivision, through your association meetings or newsletters, of the following guidelines. Keep ALL vehicles OFF THE STREET whenever a snowfall is predicted so that we can more efficiently use our plowing/salting equipment. Also, residents are not to shovel or plow snow into the street, as it could freeze and cause a hazardous situation with possible legal consequences (605 ILCS 5/9-117 and 605 ILCS 5/9-130). With everyone's cooperation, we will provide the best job of snow and ice removal possible. Thank you for your attention.
The township is a member of DuPage County's – Public Works Mutual Aid Program (PWMA). The highway department along with the other townships in the county are part of one of the nation's first Public Works Mutual Aid programs. Pooling resources to better serve our residents in the event of a disaster.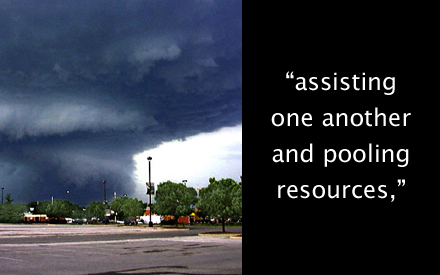 It shall be the mission of the members of the DuPage County Public Works Mutual Aid System to assist one another upon request, by pooling resources, assembling task forces, and committing those resources to respond to a declared emergency or disaster.
What is Public Works Mutual Aid (PWMA)?
Organized, Written Program to assist communities that are stricken by a Declared Emergency or Disaster. Providing Equipment and Individuals with expertise in using that equipment to assist a community in need.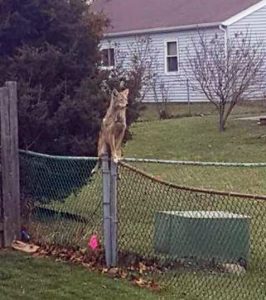 The Township is home to a wide variety of wildlife. You may encounter bats, birds, coyotes, deer, ducks, geese, hawks, opossums, rabbits, raccoons, skunks, snakes, and squirrels to name a few.   Coyotes: (Courtesy of Dupage County) Coyotes have been prevalent in the news recently. Cats and small dogs should not be left outside unattended. Coyotes view these animals as a food source.
If you see a coyote that is actively acting aggressively towards a human (charging or trying to bite) call DuPage Animal Care and Control at (630)407-2800 x 0 if you reside in unincorporated DuPage County; or call your local police department if you live within the city limits. 
Strategies for dealing with coyotes:
Additional suggested resources for information on wildlife/coyotes:
For after-hours emergency animal related issues in UNINCORPORATED DuPage County, call the DuPage County Sheriff's Department at (630)407-2400.
In order to better serve you, please fill out the Contact Form below, our staff will respond as soon as possible.