How can we further assist you today?
The Township Supervisor serves as Chief Executive Officer of the township. The Supervisor's duties and responsibilities include serving as Chairman of the Township Board of Trustees, Supervisor of the General Assistance program, and Treasurer of all Town funds including General Assistance and Road and Bridge funds. The Supervisor also oversees the Human Services Department which has programs for Senior Citizens and Youth. Senior Citizen programs include classes and social events. The Youth Services division teaches Life Skills classes to many schools within the Township Boundaries.
Call Ahead for an Appointment to Avoid Waiting
Township offices and services are open for walk-in traffic. The Township requests that residents continue calling ahead and making appointments when possible. Appointments for Passports and General Assistance are required to ensure we can give you the best service possible.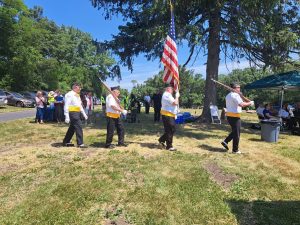 In honor of Flag Day, June 14, Downers Grove Township, American Legion Post #391 of Lombard, and American Legion Orchestra hosted a Flag Day Celebration at Oak Crest & Oak Hill Cemeteries. A respectful ceremony was offered with words by DuPage Co. Sheriff Jim Mendrick and our guest speaker Lois
Read More »
You can register to vote at the Supervisor's Office!
To begin the registration process, please call to schedule an appointment. When registering, bring two forms of identification, one of which must have your correct name and address on it. A photo ID is not required to register.
New voters are required to meet the following qualifications:
Appointments are required!
Call (630) 719-6610 to schedule an appointment. Office hours are Monday, Wednesday and Friday, 9 am - 3:30 pm.
Downers Grove Township is a Passport Acceptance Agency. To apply for a new U.S. Passport, you must have one of each of the following:
Proof of Citizenship
Identification
Passport Photos
Form of Payment
Proof of Citizenship
Original or certified copy of birth certificate, Certificate of Naturalization or an expired passport (issued in the last 5 years). All documents must be sealed, certified originals. No photo copies will be accepted.
Identification
Passport Photos
Form of Payment
If international departure is less than two weeks away or a passport is needed for foreign visas, submitting an application at a Regional Passport Agency may be advised. An appointment for that is required. Visit travel.state.gov for more information.
All passport applicants, regardless of age, must be present during the time of application.  Applicants aged 16 and 17 must have one parent present with them.  Applicants aged 15 and under must have both parents present.
You may qualify to submit your passport renewal by using form DS-82. This application can be made by mail only if:
Oak Crest & Oak Hill Cemeteries
The Township of Downers Grove manages Oak Crest and Oak Hill Cemeteries. Oak Crest and Oak Hill Cemeteries are located between Maple Avenue and Elmore Avenue (east of Glenview Ave), in unincorporated Downers Grove.
If you have questions or are interested in purchasing graves in Oak Crest Cemetery, please contact the Supervisor's office at (630) 719-6614.
Downers Grove Township is grateful for the support of the community. Numerous township residents have generously donated their time and labor to aid in the restoration of the cemeteries.
Many Downers Grove Boy Scout Troops have been working diligently to remove invasive vegetation surrounding the border of the cemetery property. Several years ago, local Eagle Scouts constructed three walk-in gates for pedestrian traffic through the cemeteries. In addition, Downers Grove Township conducted a headstone restoration program for many of the historical stones located in the Oak Hill Cemetery. These efforts are greatly appreciated and very beneficial in preserving our historical landmarks and grounds.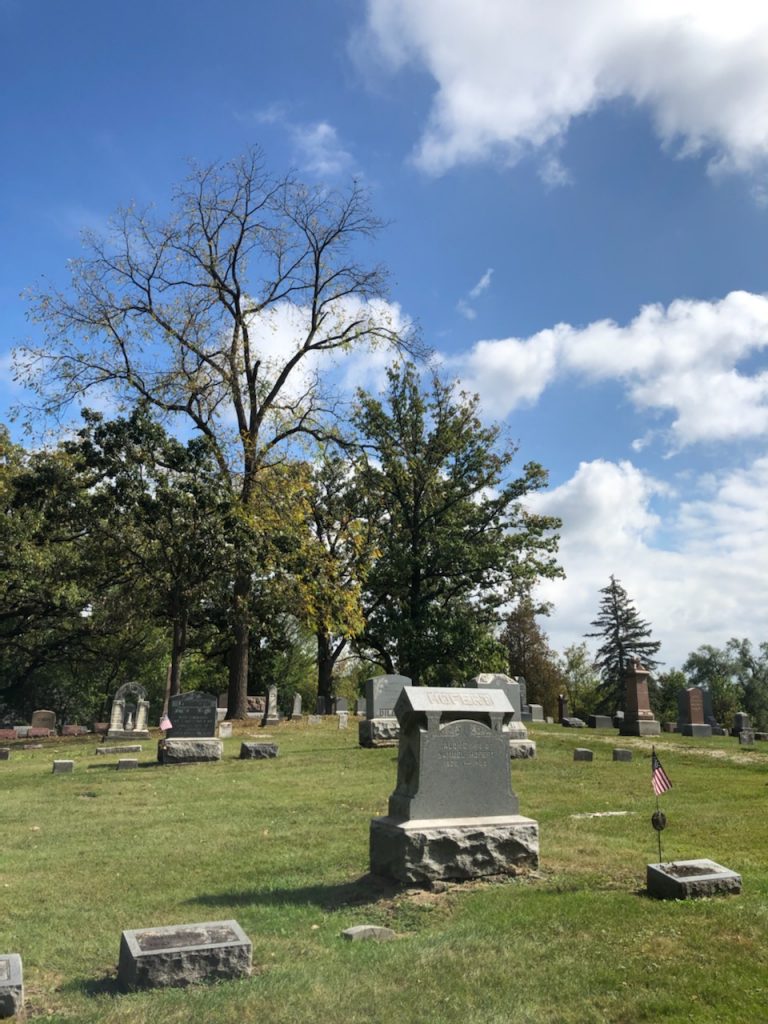 Oak Crest and Oak Hill Cemetery Foundation, is a 501(c)(3) charitable not-for-profit organization. The purpose of the Foundation is to preserve the rich history of our founding fathers and their families.
Generous donations to the Foundation help to honor the respected members of the community who are buried within the cemetery grounds and maintain the dignity and peace that they deserve. If you would like more information about the Oak Crest & Oak Hill Cemetery Foundation, please fill out our Contact Form or call (630) 719–6614.
Oak Crest & Oak Hill Cemetery prides itself on being a naturally serene environment. We are a historical cemetery in the heart of the Downers Grove community.  We are committed to the restoration and preservation of the four acres to ensure that its historical significance to the community endures. 
Oak Hill Cemetery was a large piece of land in 1835 when it was purchased by Dexter Stanley. In the 1800s, residents of the community mostly used the Main Street Cemetery. But due to flooding and icy conditions from St. Joseph Creek, burying people at the Main Street Cemetery became difficult. Residents eventually reached out to Stanley for help, and he donated part of his land, which was one of the highest points in this area. It was originally called Westside Cemetery. Local families buried at Oak Hill include members of the Downer, Stanley, Dixon, Carpenter and Rogers families. Oak Crest Cemetery is located between Howard Street and Elmore Avenue, in unincorporated Downers Grove, in both Downers Grove and Lisle Townships.
Oak Crest Cemetery, once called Blodgett Cemetery, was a privately-owned cemetery. During the lifetime of Mr. William Blodgett, he sold lots in Oak Crest Cemetery, but at no time did he own the land. Mr. Blodgett died on February 8, 1933. Records show, in August of 1936, Florence L. Kester and her husband, Reg Ekstrom Jr., were the owners of the land. On December 5, 1936, the Kesters transferred the cemetery property to Edith Blodgett. On March 22, 1939, Ms. Blodgett transferred part of the property to Olive M. Carlson. Records also show that on May 15, 1945 Olive M. Carlson conveyed the cemetery to William and Harriet Prince Parrish. On July 17,1945, Edith G. Blodgett also conveyed the remaining land to the Parrishs. In 1960, before William Parrish died, he sold the land to Fred & Mae Marvin, who already had Oak Hill Cemetery. Since they could not afford a high price, Mr. Parrish sold it to them for $10.00.
We have begun our annual efforts to minimize mosquito populations, reduce the risk of West Nile Virus transmission, and preserve the overall comfort and quality of life of our residents.
The Township has contracted with St. Charles-based Clarke to provide our community with an integrated mosquito management program. This includes:
Ongoing surveillance to monitor overall mosquito population levels and detect the presence of mosquito-borne disease like West Nile Virus
Mapping known mosquito breeding sites throughout the community
Applying larval control products to known or active mosquito breeding sites such as catch basins, storm drains and standing water sites.  Larval control products (larvicides) work to control mosquitos in the aquatic larval stage. Larvicides are effective at suppressing overall mosquito populations and preventing the hatch-off of flying biting adults.
Adult mosquito control treatments to quickly reduce adult populations when surveillance indicates a rise in populations or the presence of a mosquito-borne disease like West Nile Virus. This involves applying a very small amount of an EPA-registered adult mosquito control product (an adulticide) though an ultra-low-volume sprayer.  The sprayer creates a fine mist of tiny droplets that move through the air and work by making physical contact with adult mosquitoes in-flight.  The treatments are typically scheduled during the evening hours when mosquitoes are most active.
For more information about mosquito control, visit www.Clarke.com.  
To report standing water, high mosquito activity, or be placed on the spray notification call list, please call 1-800-942-2555.
Residential property in the Unincorporated areas of Downers Grove Township must be maintained by the owner. The Township ordinance requires that homeowners keep their yard mowed to a height of no more than 8″ and obnoxious weeds be removed.
When the Township receive complaints about a property, including foreclosed/abandoned homes, that have grass over 8″ or an abundance of weeds, it is the policy of Downers Grove Township that the last known homeowner will receive a certified letter from the Township. If the property is not taken care of, the Township will mow or remove the weeds and a lien of not less than $400.00 will be placed against the property. 
Refuse Collection Program for Residents of Unincorporated DGT
The fourth year of the Groot refuse contract extension begins April 1, 2022. This program covers single family residences in unincorporated Downers Grove Township only. The planned increases are as indicated here:
Billing cycles remain the same. The Township continues to receive positive comments and feedback on Groot as a refuse carrier. Groot can be reached at 708.485.0900 and at info@groot.com.

A not-for-profit organization that supports programs and services offered by the Township that foster the independence and wellbeing of older adults. Based on need, the organization seeks to enhance their quality of life by acting as a resource for funding programs, services, education, and information.
As a registered 501(c)3 charitable organization, monetary donations to Friends for Downers Grove Township Senior Citizens are tax deductible.
Tax ID# 45-3952379

Make checks payable to: Friends for Downers Grove Township Senior Citizens

Governed by a Board of Directors not compensated for its services, Oak Crest/Oak Hill Foundation benefits from the guidance of it's board members, who represent the community and contribute their professional and educational expertise.
Make checks payable to:
Oak Hill / Oak Crest Foundation
Mail to or drop off: Oak Hill/Oak Crest Foundation, 4340 Prince Street, Downers Grove, IL 60515 
Tax ID# 45-3734758
Food Distribution
Tuesdays 4-6 pm
Fridays 8:30-11:30 am
Clients may visit the pantry once a week. Drive-up or walk-up service provided
Donations Accepted 
Tuesdays & Thursdays
8:30 am – 10:30 am
For more information please call 630-432-5350.
In order to better serve you, please fill out the Contact Form below. Our staff will respond as soon as possible.