In late June, our Township was hit by a devastating storm, causing untold damage to several homes in the southeast portion. On behalf of the citizens of Downers Grove Township, I would like to thank our sister Townships, CERT, DuPage County, and the area businesses who donated food and water. I would also like to thank the hundreds of volunteers who helped in a variety of ways. Below is Highway Commissioner Andy Anderson's account of the storm and the damage it caused, as given to the Board of Trustees at the July 15 meeting.
Paul Coultrap – Supervisor
The storm hit around 11:30 PM on June 20th. I called the crew out around 11:45 pm. Calls started coming in from the sheriff's department around midnight. The tornado headed across the township in a south/east direction with the most damage being in the west end area between 75th St. and 87th St. By the time it hit Route 83, it had made its way south of I-55 to almost 91st street. There was little to no damage east of Route 83. Bruce Lake subdivision was hit the hardest with Rosehill, Landsfield and Graceland subdivisions also sustaining heavy damage. Bruce Lake was completely blocked with tree debris and electric poles and wires everywhere. Rosehill streets were also completely blocked with no access to residents in the southeast area of the subdivision. My crew worked from midnight until 6:00 pm on Monday in order to clear roads for residents and emergency vehicles. Calls were made to Homeland Security for assistance and by Tuesday we had 25 helpers from DuPage County helping us in Bruce Lake and Rosehill Estates. By the end of the first week, County crews also had put in 720 man hours. A year ago, all 9 townships entered into an alliance which was also activated and during the next two weeks, we received help from Wayne, Milton, Winfield, Bloomingdale, Addison and Lisle townships. Other agencies which helped us were the City of Darien and IDOT. On June 26th Supervisor Paul Coultrap and Assessor Gregory Boltz organized a tornado clean-up to help Bruce Lake residents. Clerk Lorraine Grimsby organized an information collection for FEMA and assisted in gathering damage reports for residents affected by the tornado. The County issued tablets to collect damage information and volunteers were trained. The volunteers went door-to-door to log the damage and take pictures. Over 300 volunteers arrived to help with storm damage removal along with a couple of fire departments and a few private contractors who donated their time and equipment. By July 4th, all roads were completely cleared, and all electricity restored to residents. The next week was dedicated to clearing brush and tree debris from the rights-of-way that residents had brought from their yards. Heavy rains and localized flooding caused more issues for my crew. We received 3 inches of rain in one hour on the east side of the township which caused parts of Sawmill Creek to top and wash over the road on Williams Dr. Last week slowed down a little. My crew was able to replace a couple of culverts and the tree crew continued to work on cutbacks and tree trimming in between final cleanup work.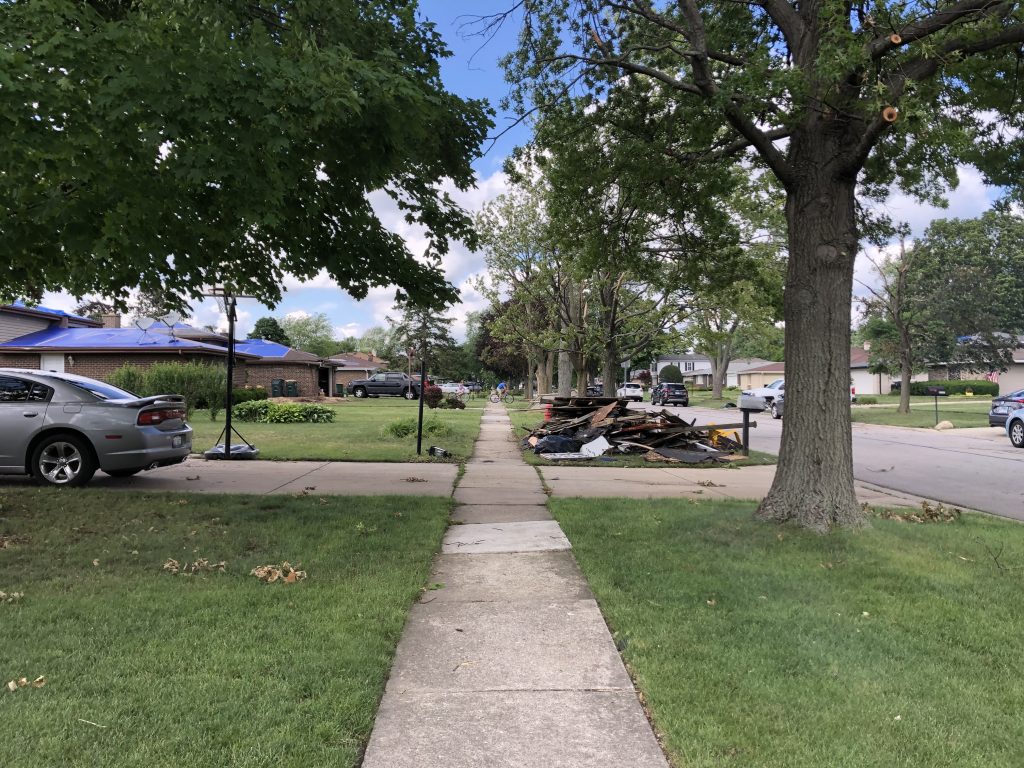 Search

Information Channels